WHY VISIT SANTORINI ON YOUR YACHT CHARTER
Santorini is one of the great superyacht destinations of the world, and makes an outstanding stop on a Mediterranean yacht charter.
Located in the Cyclades Islands, the island of Santorini looms out of the sparkling Aegean Sea, the cliffs and whitewashed villages towering over the yachts anchored below. Here are just a few of the reasons why this dramatically beautiful island is a favourite of all who visit on a Santorini yacht charter.
Natural Grandeur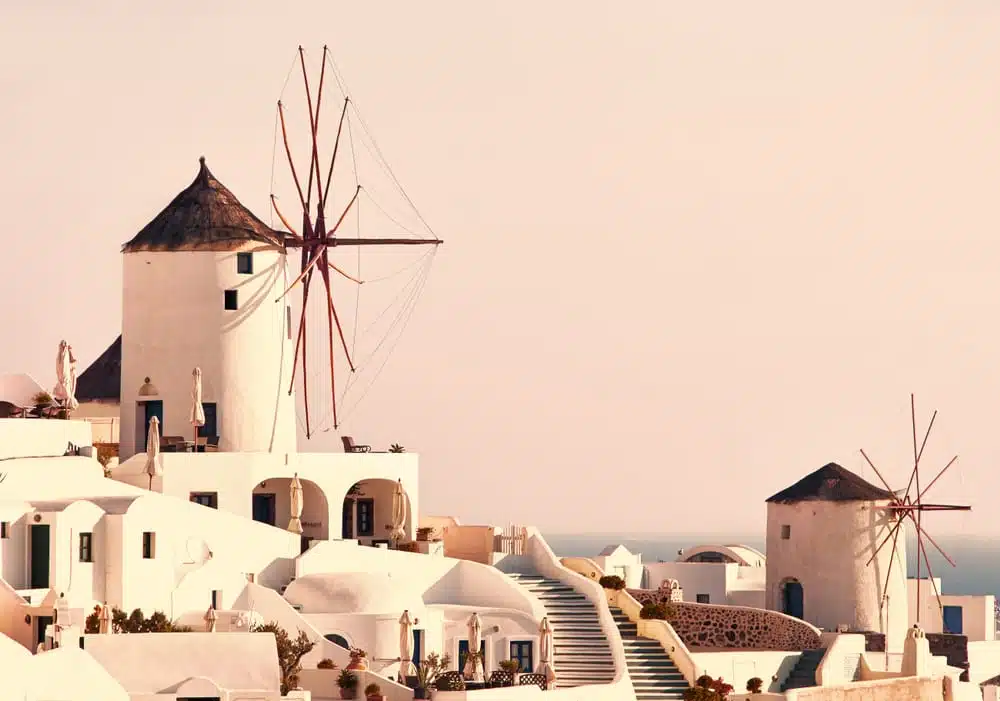 The remnants of an ancient volcano, the island's natural grandeur makes a Santorini yacht charter a true once-in-a-lifetime experience, with donkey paths leading down to glittering black and red sand beaches, and blue and whitewash villages dotted along the sheer coast, windmills standing stark against the sky.
Astonishing Sunsets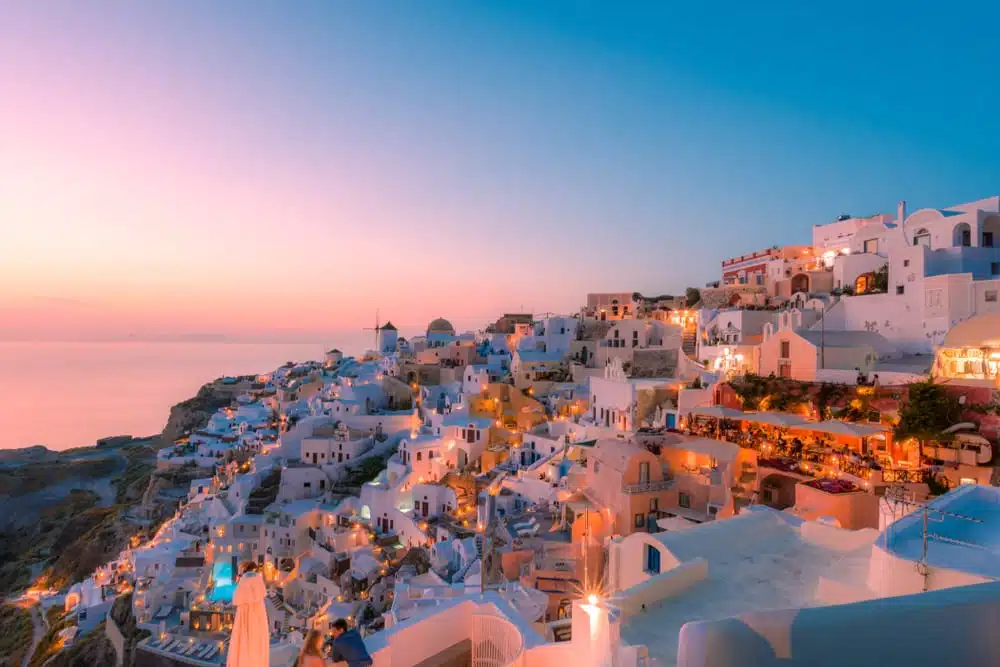 The view from the cliffs of Santorini at sunset has launched a thousand postcards, as the sun sinks into the Aegean and lights the sea and sky up like fire. Whether you've got a dizzying view at the famous village of Oia or are glamming it up by an infinity pool at one of Santorini's clifftop hotels, a Santorini sunset is a must-do in a lifetime.
Decadent High Life
A Santorini yacht charter is an invitation to indulge. Luxury boutiques line the cobbled laneways, restaurant terraces are wreathed in bougainvillea, and lavish spa hotels offer endless Aegean views to enjoy while you're getting pampered. It's no wonder that the superyacht set flock to Santorini each summer.
Anchor in a volcanic crater
When you drop anchor below the cliffs of Santorini, you are floating in a flooded volcanic crater. Swim off the back of the yacht in the deep, crystal clear waters, get the Jetskis and paddleboards out, or dive under the surface to find eerie volcanic topography and a shipwreck you can swim through.
Float through the Cyclades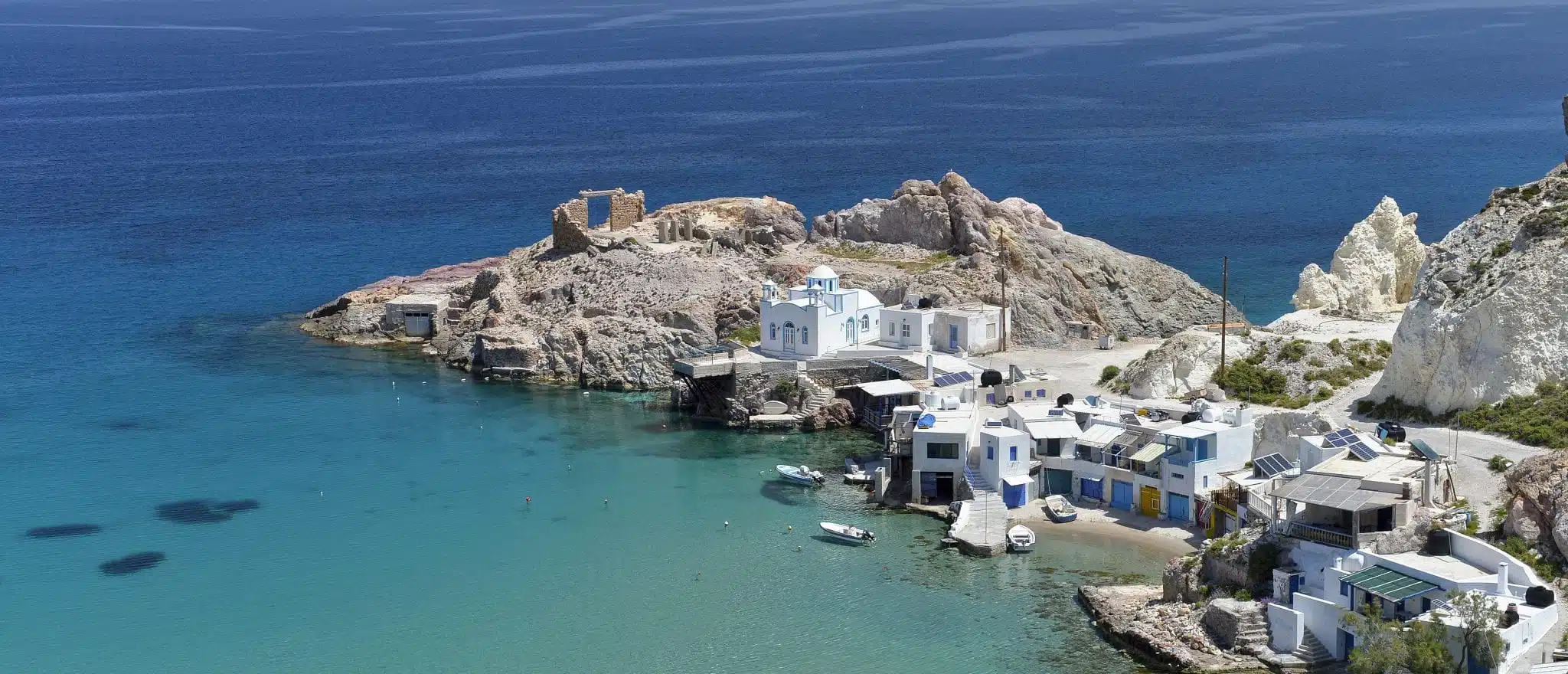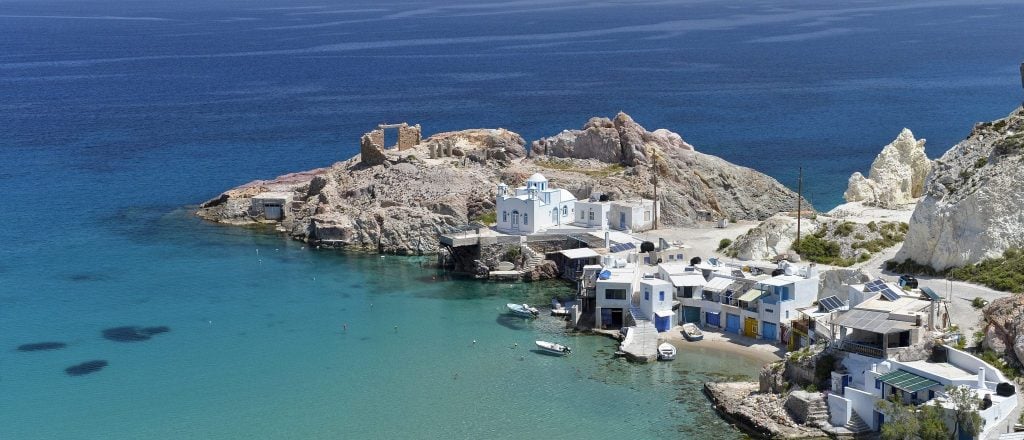 On a Santorini yacht charter, you'll easily be able to cruise through the other Cyclades islands- soaking up the party scene of Mykonos, the dramatic, lonely beauty of Folegandros, and the breathtaking beaches and hot springs of Milos.
Enjoy a Santorini Yacht Charter on S/Y FAR AND WIDE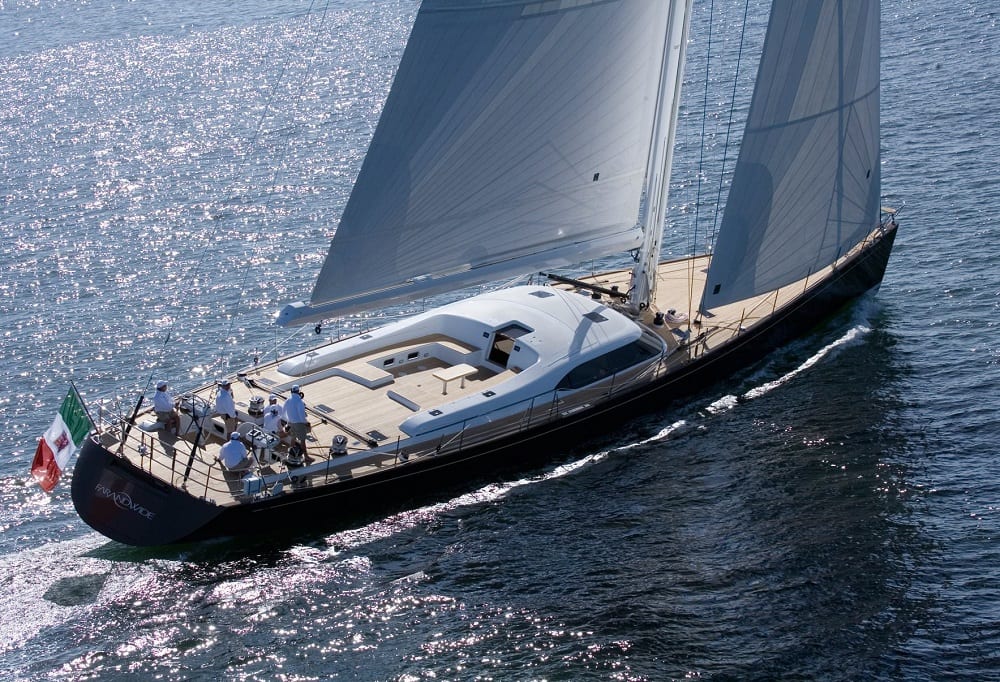 There's no better way to visit Santorini than with a Greek Islands yacht charter, and the 30.2m sailing sloop S/Y FAR AND WIDE is an exceptional way to explore the Cyclades.
Featuring a composite high performance hull and a 424sqm sail plan, S/Y FAR AND WIDE blends sailing performance with superyacht luxury. The yacht's contemporary interior accommodates up to eight guests in four staterooms, comprised of a full-beam master, a double VIP, and two twin cabins.  The gorgeous split level salon is flooded with light from the panoramic windows, making it a stunning place to dine on the upper level, or relax into soft white couches below. Out on deck, you'll find alfresco dining and space to sunbathe and relax, or you can get involved in the sailing with the yacht's professional crew of four.
The hydraulic swim platform is the place to launch off on the yach'ts watertoys, which include a water-ski, wakeboard, inflatables and kayaks—all you need to explore Santorini's spectacular coastline!
S/Y FAR AND WIDE is available for Santorini yacht charters and Mediterranean yacht charters in 2018, with a weekly rate starting at 46,000 EUR, + VAT and expenses.