Costa Smeralda's most exclusive clubs: recommendations for a memorable tour
The clubs of Costa Smeralda: light up your charter
The nightlife in Costa Smeralda is filled with clubs, discos, exclusive restaurants and VIPs. The coolest destination of a yacht holiday in Sardinia, located on the Gallura shore in the north-east of the island, is home to Italian and international celebrities and the paparazzis that follow the trail of countless parties, posting news on the most exclusive spots and majestic boats docked in Porto Cervo, the heart of Sardinia's nightlife.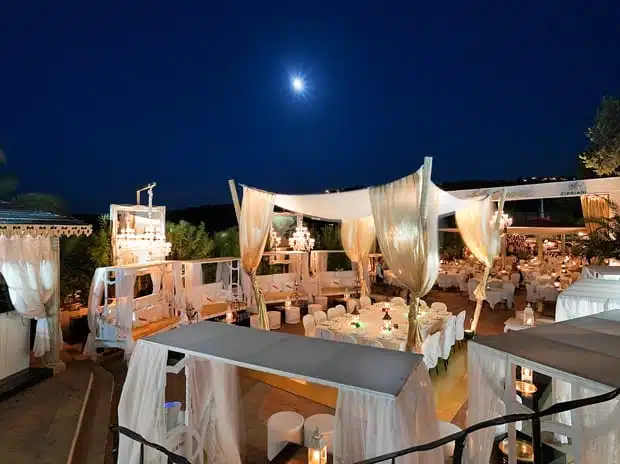 Clubbing and nightlife in Costa Smeralda
Need a recommendation on what to do before dinner? Anchor your yacht in Costa Smeralda after a day at sea and stop at Upper, Palau's best Sushi & Lounge Bar, not far from Porto Cervo, for an aperitif in the sophisticated and laid back atmosphere of its terrace overlooking the Island of La Maddalena. You can stop here and dance until the wee hours of the morning or head to one of Costa Smeralda's many exclusive discos. The area is packed with nightclubs. Make sure to hit the elegant Billionaire, a symbol of the local nightlife and the top destination of many a celebrity.
Last summer Pepero Club in Porto Cervo launched under a new management. This "club into the club": the restaurant managed by Gianfranco Vissani caters to forty-year olds, whereas the club welcomes a younger clientele. Sottovento and Sopravento are Costa Smeralda's long-standing discos. While both boast a dazzling synergy of style and exclusivity, the latter caters to a younger crowd. Vip Room, the international club, has recently opened a facility in the area on Poltu Quatu's stack with a dense program of events featuring international DJs.
Tartaruga, with its turtle-shaped windows, is one of the most famous nightclubs in Porto Rotondo and home to many celebrities who love to spend their evenings here. Another choice is Black Moon, in Villaggio Ladunia, that features an excellent bar, or Rha, popular with the rich youth and crowds of friends who love it for its laid-back and carefree atmosphere.
The foremost and most thrilling institution of Costa Smeralda's nightlife is probably il Ritual disco, in Baja Sardinia. The spires of this granite castle evoke esoteric thoughts, while the nights in this historical facility founded in the 1970s offer a dense program of international guests and events that go on all night long.
Costa Smeralda's best restaurants
TripAdvisor lists La Kustera among the top-rated restaurants of Costa Smerlada. Located in an old country house in Gallura, it is the perfect site to taste the local gastronomy in an elegant and discreet environment. Do not miss the chance to dine at Stelle D Stelle, Porto Cervo's "first multi-starred restaurant" set in the Piazzetta. Ten Michelin Chefs take turns in the restaurant's kitchen, creating ad hoc menus from 15 June to 11 September. If you'd rather dine on your yacht, choose Renato Pedrinelli's high-quality catering service on Porto Cervo'so ld pier.
Phi Beach in Costa Smeralda has become a local institution in a very short time. Featuring floating jetties and a seawater pool, the site boasts the famous Chiringuito bar that serves aperitifs at sunset. After spending the date laying on the sunbeds of one of Gallura's most up to date spots, the restaurants offers a choice of Mediterranean fish and shellfish preparations.
 
The must-visit beaches in Costa Smeralda
VIPs love to spend time in Costa Smeralda as much for its exclusive clubs as for its beaches. The best ones include:
    Il Piccolo e il Grande Pevero, 3 kilometers from Porto Cervo, boasts a shallow seabed and crystal-clear water;
    Cala Capriccioli, a tiny and wild cove of transparent waters surrounded by granite rocks and Mediterranean shrub. Before leaving, stop in Isola di Mortorio, the dreamy nature reserve located opposite the cove!
    Cala di Volpe, featuring four strands of pink sand;
    Romazzino, a favorite VIP destinations surrounded by luxury hotels;
    Rena Bianca, the perfect destination for sports fans. Rent a surfboard, aquascooter, canoe, or snorkeling equipment and head off on a solo adventure to the isolated bays.
Costa Smeralda and gay bars
The nudist areas of the beaches of Liscia Ruja, La Cinta in San Teodoro, La Sciumara, l'Isola dei Gabbiani and Punta Nera in Palau are mostly gay destinations. There aren't many men-only clubs in Costa Smeralda, which is regarded more as a heterosexual heaven. Occasionally El Peyote in Arzachena throws gay parties.
Do you find it hard to make your pick? You are right: each restaurants, disco, and lounge bar in Costa Smeralda is unique due to the charming atmospheres of these destinations resting by wonderful waters. Enjoy!