Adventure Yacht Holidays on the Mediterranean
A Mediterranean yacht charter is perfect for all types of travellers, but it is an especially exciting destination for those seeking an adventure holiday. Made for thrill-seekers big and small, the variety of landscapes and activities on offer make the Mediterranean a must-do for anyone looking for new and exciting experiences. We have compiled the best adventure activities for everyone, whether you are heading off on charter with your partner, friends or family. Here are the top four adrenaline-packed destinations for a Mediterranean adventure holiday. 
Extreme adventure holidays on Zakynthos Island, Greece
Zakynthos Island may be one of the most beautiful islands in the Ionian Sea, but it's also a prime adventure holiday destination for those seeking serious thrills. Lovers of extreme sports will have heard of, or tried, BASE jumping, a practice that sees you jumping from an elevated point with a parachute. One of the world's best BASE jumping sites is located on the tall limestone cliffs overlooking the cove of Navagio Beach. Not only is the scenery breathtaking, but Navagio Beach is perhaps one of the most unique beaches in the Mediterranean due to the iconic shipwreck exposed on the fine white sand.
BASE jumping on Zakynthos Island is not recommended for amateurs and novices since the cliffs rise up to 200 meters, giving adrenaline junkies three to five seconds of free falling before deploying the parachute. For those looking for something a little less extreme for a family adventure holiday, the island also offers many exciting speedboat tours of the magical surroundings, diving lessons and a variety of exciting water sports. 
Windsports adventure holidays in Tarifa, Spain
Tarifa, Spain boasts almost 300 days of wind each year, making this beautiful whitewashed town Europe's windsports capital and the quintessential Mediterannean adventure holiday destination. 
Located near the Strait of Gibraltar, the city benefits from two types of wind, one wild and fast (levante), the other tame and slow (poniente). Combined with Tarifa's wide sandy beaches stretched over 35km of coastine, it is the perfect recipe for an action-packed family adventure holiday. From surfing, kitesurfing and windsurfing to kayaking and sailing, Tarifa promises plenty of fun for all levels and all ages. There are a myriad of schools and private classes that will provide exactly what you are looking for, whether you seek extreme thrills or just some family-friendly fun on the water. 
For those looking for some added exoticism during their adventure holiday, don't forget to book a day-trip to the Morocccan seaside town of Tangier and roam its fairytale-like souks. 
Cliff diving in Santorini, Greece
An adventure holiday on the Mediterannean would not be complete without some cliff jumping, and Greece is the perfect spot to do it. The tall red volcanic cliffs of Amoudi Bay in Santorini are world-famous for cliff jumping. Roughly 300 steps away from the charming town of Oia, the adventure starts with a short rocky hike on a steep path, or as a fun alternative to the walk, you can even ride donkeys. The designated cliff diving spot is found on the rugged isle of St. Nicholas, a very short swim away from the bay's shore. The water there is deep yet crystal clear, perfect for snorkeling after a jump.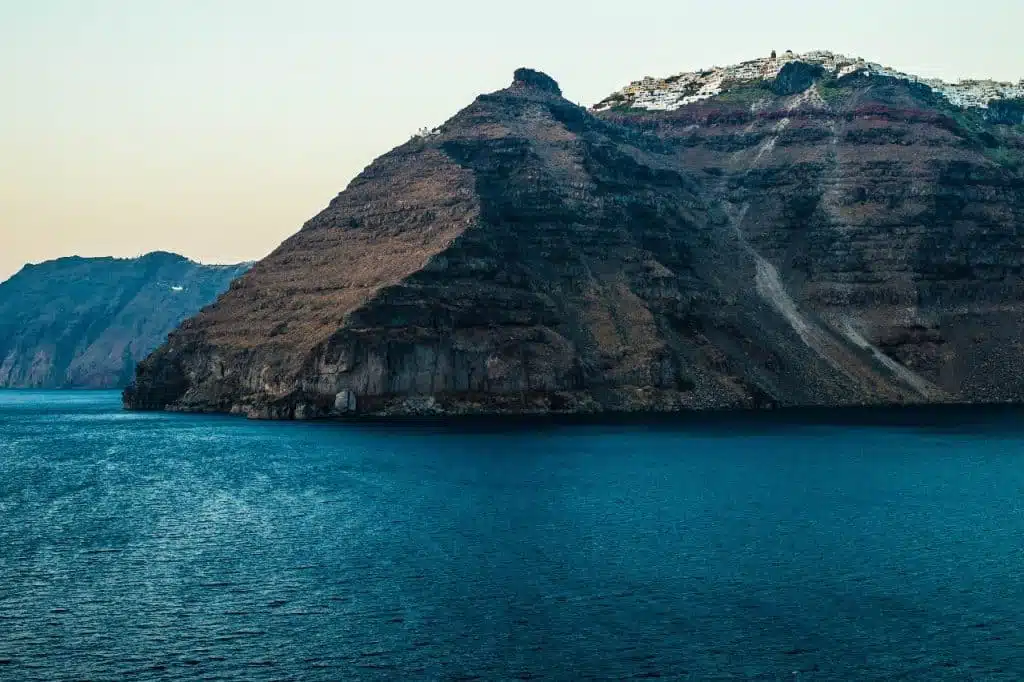 A Santorini escape encompasses all the senses. For those less inclined to water activities, Amoudi Bay is a seafood lover's paradise and offers a breathtaking sunset. 
Family adventure holidays with dolphins on the French Riviera
Swimming with dolphins is on everyone's bucket list, whether you are embarking for an adventure holiday or not. The French Riviera provides the ideal conditions to make unforgettable, once-in-a-lifetime memories with these friendly mammals. 
Situated right off the coast of Antibes, the Pelagos Sanctuary is dedicated to the preservation of marine wildlife. You can book day excursions to swim in a safe environment surrounded by these adorable sea creatures. Dolphins may not be the only exotic wildlife you'll meet; the sanctuary is filled with turtles, stingrays and beautiful colourful fish. You may even be able to spot a whale if you're lucky. 
For those who seek underwater thrills, the French Riviera is a paradise for adept divers on an adventure holiday. The Mediterranean is full of caves and intricate grottos to explore. What's more, sailors have traversed these waters since Antiquity, riddling the seabeds with ancient wrecks and mesmerizing artefacts.
To enquire about booking an adventure yacht charter, get in touch today.