Yacht cruise of Malta
An archipelago bursting with the charm of an age-old civilization, a meeting point of cultures that through the centuries have created a synergy of impressions that will enchant you: we are in Malta, the perfect destination for a charter holiday after visiting the most beautiful beaches of Eastern Sicily.
What to see on a charter cruise of Malta
Malta, Gozo, Comino and other minor islets form the archipelago of the Maltese Islands. The lemons and bougainvilleas in bloom add touches of vivid color to the Mediterranean vegetation that overlooks transparent waters and majestic cliffs in a never-ending summer, while the intense scents of mint, lavender and rosemary inebriate the trekking enthusiasts who trek on the trails in the interior.
Yachting in Malta: Mdina's medieval charm
Mdina, built by the Knights of Malta to whom it owes its unique appeal, is located on a hill in the heart of the island. Let time slow down as you stroll through its narrow and windy alleys crowded with typical shops toward the panoramic terrace of the small town. In May Mdina hosts the Medieval Feast, an old tradition when the town is decorated with carpets of flowers dotted with sculptures that enhance their beauty, making it a memorable destination.
Yachting in Malta: museums and gardens
After a visit to the Upper Barrakka gardens with their imposing columns overlooking Malta's Great Harbor and Fort Saint Elmo, La Valletta's museums await to make you discover again the history of this picturesque island spanning prehistory to World War II.
Yachting in Malta: the most charming beaches
A mild climate throughout the year, white sandy beaches and transparent waters make Malta a favourite destination for a charter holiday. Here is a list of the most charming spots:
Anchor Bay: a children's favorite, it is found at the foot of a colorful village built in 1980 as a set for  Disney's musical "Popeye" and preserved like a type of open-air museum to this day.
Selmun Bay: hidden and wild, surrounded by sandy dunes, this is the perfect escape if you want to spend hours of total relaxation.
Peter's Pool: this natural pool located on the south-east coast is surrounded by incredibly white rocks that form a picturesque landscape. Perfect for snorkelling.
Golden Bay: is one of Malta's most famous and therefore busiest beaches. This long stretch of sand  unfolds at the tip of luxurious Mediterranean vegetation.
Ghajn Tuffieha Bay: embraced by dizzying cliffs and enclosed by a gulf, it boasts a wonderful seabed that can be explored with just a mask and flippers.
Ghasri Valley / Gozo: enchanting spot of red sand that is less crowded that other bays in Malta as it is hard to reach by foot (you must climb many steep steps).
Ramla Bay / Gozo: this spectacular fjord located north of Gozo has a web of caves that stretch to the coast's interior for hundreds of meters. Due to the presence of rocks and cliffs the crystal-clear waters are home to a rich marine life that makes this site a snorkeler favorite.
Blue Lagoon / Comino: Comino's Blue Lagoon is an unmissable stop of your next yacht cruise of Malta. This enchanting sheltered bay appears like a "natural pool" with a seabed of incredibly white sand and transparent waters that have nothing on more exotic, faraway locations. In fact, the Blue Lagoon has often been chosen as a set for famous movies like Swept Away (featuring Madonna) and The Count of Monte Cristo. This magical and breathtaking site is perfect for swimming in transparent waters and snorkelling, windsurfing or simply lazing about under the sun on the deck of your luxury charter.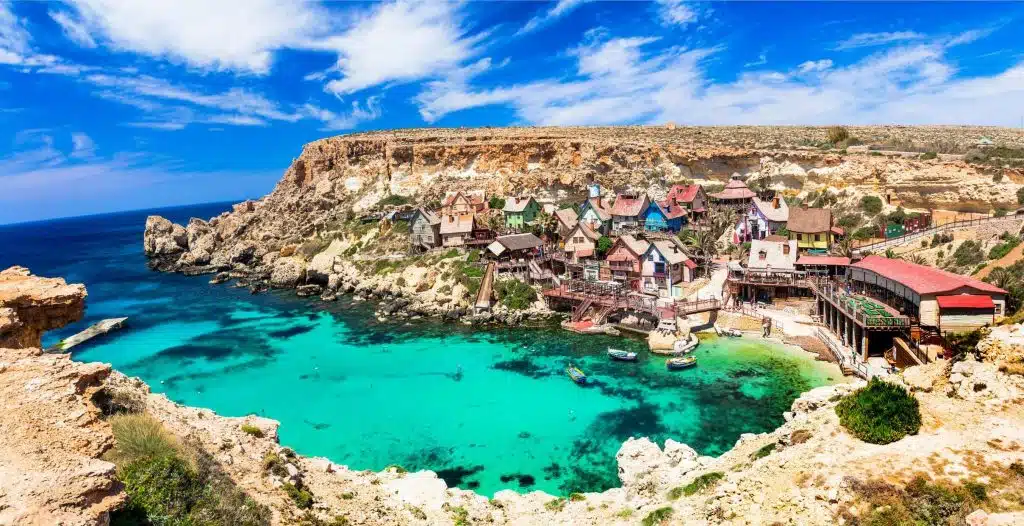 Yachting in Malta: local delicacies
You cannot go back to your yacht without having first had a kinnie, Malta's national beverage made with oranges, perhaps accompanied by a slice of Banoffee, the delicious dessert made from bananas, puff pastry, caramel and whipped cream. The Maltese gastronomy combines elements of Southern Italian cuisine and the flavors of the nearby North Africa in a mix of tastes that are worth discovering.
Malta's archipelago is full of charm and memorable sites to discover on your next charter holiday.