Top 4 Secret Islands to Explore on a Greece Yacht Charter
When it comes to Greek islands, Santorini and Mykonos are the towering giants of the yachting world, with Zakynthos' stunning Shipwreck Beach and Venetian Corfu also topping the must-visit list on a Greece yacht charter.
But maybe you're looking for something a little different this year. Perhaps you're looking for some of the more hidden Greek islands to explore—the secret islands where the modern world just drops away as you dive off the yacht into a translucent turquoise sea, or indulge in a long lazy lunch at a traditional waterfront taverna.
If this sounds like you, here are four secret islands to visit this year on your Greece yacht charter, as well as one of our spectacular Greece charter yachts to enjoy them from.
But never fear: because we also know that Santorini, Mykonos and the others are simply irresistible yachting destinations, all of our 'secret' islands are within easy reach of yachting hotspots. On a Greece yacht charter, you can have your baklava, and eat it too.
Folegandros, Cyclades
Just a short hop south from glamorous Santorini, this off-the-radar island shares the dramatic volcanic landscape of its neighbour, as well as its vertiginous clifftop villages, gasp-worthy sunset views, and winding donkey paths leading down to crystal clear coves.
Folfeganna's hilltop village may well be the most picturesque in all of the Cyclades, its sugar cube and bougainvillea buildings perched high above the Aegean, while the church set up on the rugged peak above the town is the place for memorable sunset pilgrimages to watch the sun plunge into the sea. There are obvious similarities to Santorini here.
Where the island significantly differs from its famous neighbour is its quiet calm, with its anchorages, streets and beaches free of crowds, and a bewitching sense that when you're on Folegandros, the outside world can't touch you. Shop and party in Santorini, sure, but when it comes time to heal the soul, Folfeganna is the perfect spot on your Greece yacht charter.
Milos, Cyclades


Milos is just a short cruise north from Santorini, and is pegged to become another Santorini in future. The question must be: why isn't it already? This is a magnificent island, with so much to see and do that you'll almost certainly wonder why you hung around in Santorini so long.
You could start with one of the the 70 beaches, including the moon-like landscape of , where undulating cliffs of dazzling white loom over blue-green sea caves.
Milos also offers an ancient amphitheatre, a ruined castle, and awe-inspiring old mines, as well as hot springs which were lauded by Hippocrates himself.
Don't dally, book your Greece yacht charter to Milos before the mass tour operators realise what a special, exciting place this really is.
Andros, Cyclades

Located in the northern Cyclades and only 2 hours from Athens, Andros is an island in the Northern Cyclades that many Greek charter yachts just pass by in their hurry to arrive in Santorini and Mykonos. With tourism never encouraged by the wealthy shipping magnates who no doubt wanted to keep this rugged, desperately beautiful gem to themselves, Andros is now sauntering into the limelight.
And she has a lot to show off about. Andros is an island of spectacular extremes, with thick forest in the cloud-wrapped mountains, ravines with gushing natural springs and cascading waterfalls, and secret coves with gin-clear seas.
There are more than 70 beaches on Andros, including the beautiful bay at Fellos, seafront towns with gorgeous neoclassical mansions, and over 300kms of excellent hiking trails leading through endless mountains and orange groves and chestnut forest.
It's rather easy to see why the wealthy dynasties of Andros wanted to keep this place a secret.
Meganisi, Ionian Island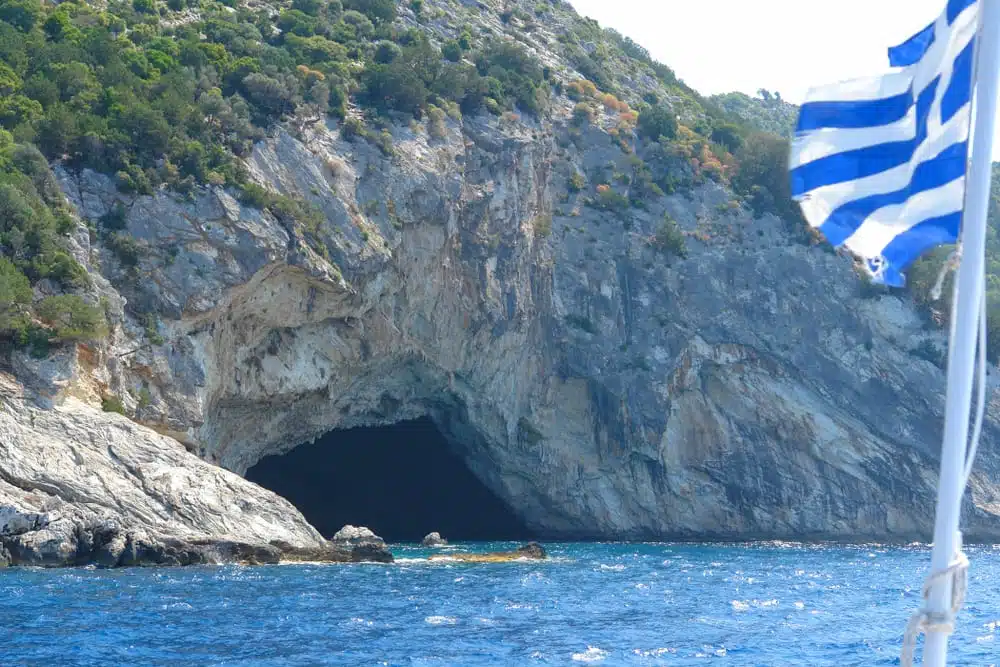 In the rush to explore nearby Shipwreck Beach, Kefalonia, and Lefkada, the utterly lovely island Meganisi is often left off the Ionian itinerary on a Greece yacht charter. This oversight is to your advantage, as this dreamy little nature island is the ideal spot to pause and drink in the beauty around you, without having to jostle with a bunch of other yachts.
Lush and green and surrounded by water of every shifting shade of sapphire and emerald, Meganisi is a place to swim and hike, and pass happy days in the warm sunshine. Lots of the best coves and beaches are only accessible by yacht, which keeps the crowds away and gives you a blissful sense of seclusion.
When you want to go to town, the quaint and very pretty harbour town of Vathy is the place to enjoy a glass of chilled ouzo and some grilled octopus overlooking the yachts in the port. It's enough to make you want to stay forever.
The Perfect Yacht for a Greece Yacht Charter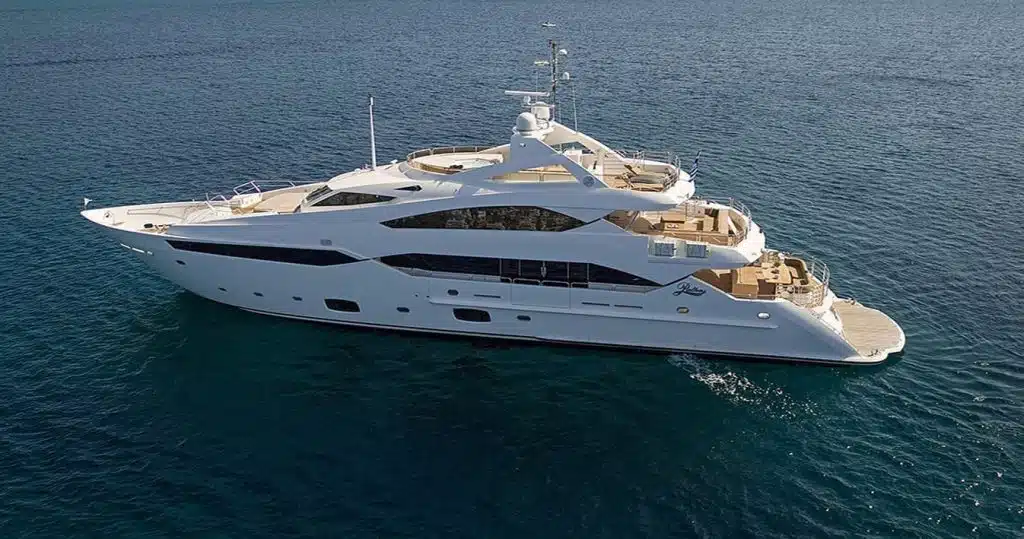 M/Y PATHOS is a sleek and glamorous 40m Sunseeker yacht available for charter in Greece, with some stunning features including an upper deck master suite with a private lounge terrace, drop-down balconies, and a large entertainer's sundeck with Jacuzzi.
M/Y PATHOS accommodates up to 12 guests in six lavish staterooms, including the upper deck king master, a huge main deck VIP, and an additional two queen staterooms and two twins on the lower deck. This six stateroom layout is extremely rare in a yacht in this size range, making this a popular yacht for Greece yacht charters.
The yacht's decor is all class and elegance, with a contemporary, airy interior of stylish wood panelling and white fabrics. The salon is a highlight, with huge sliding doors on both sides leading out to drop down balconies, bringing sea breezes and a sense of light and space into the room. Out on deck, sophisticated entertaining and relaxing spaces span the three decks, with a swim platform on the water level for launching off on the yacht's waverunners and seabobs.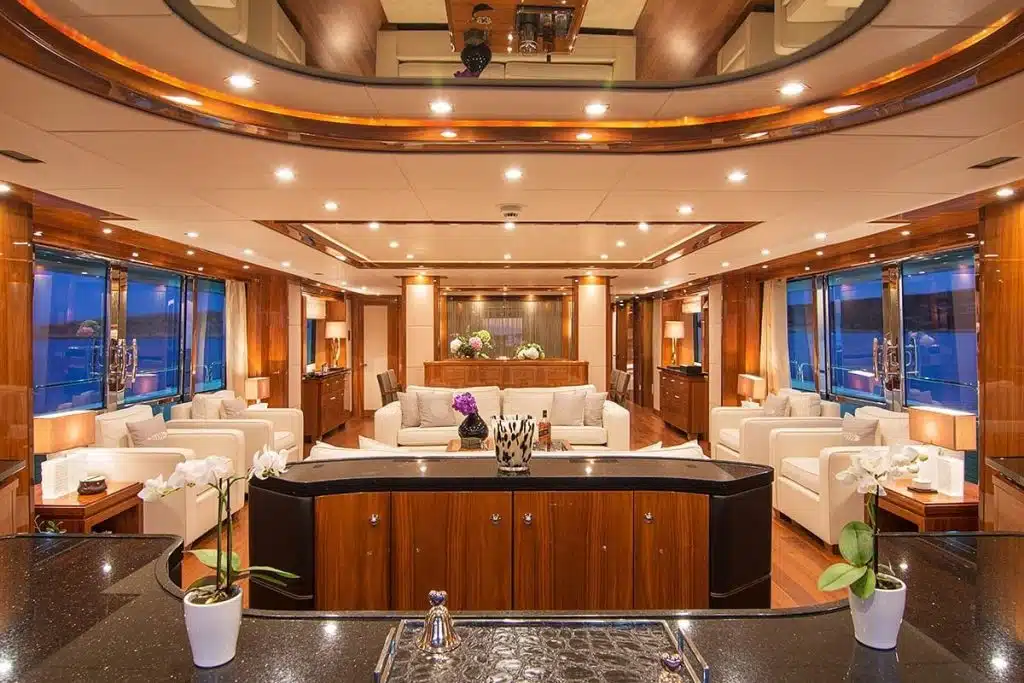 Running with superb crew of 8, M/Y PATHOS is available for Greek island charters in 2018, and charters out from 125,000 EUR per week + VAT and expenses. For more information on M/Y PATHOS, please contact a member of the Silver Star Yachting team.
Whether you want to escape the crowds on our secret islands, or shop and dance the night away in the glittering yachting hotspots, a Greece yacht charter gives you ultimate freedom to explore wherever the mood takes you.