The best destinations for a luxury yacht rental Italy
A luxury yacht rental in Italy offers an elegant getaway for discerning individuals seeking chic villages and towns to explore, fabulous cuisine, and idyllic beaches lapped by the azure Mediterranean Sea.  
One of the most elegant yacht charter destinations in Italy is the Amalfi Coast and the islands of Sicily and Sardinia.
A private motor yacht or sailboat offers the ideal way for discerning individuals to explore these stunning destinations. A luxury boat provides high levels of exclusivity and privacy, with experiences perfectly matched to suit your needs. Of course, the world's finest yachts also boast a dedicated crew providing five-star service, sumptuous interiors, and a wealth of amenities, including tenders and toys, ensuring you can make the most of your time on the water.
If you're thinking about planning a luxury yacht charter in Italy aboard a private superyacht, then read on to learn more about the most stylish Italian destinations.
Luxury yacht rental Italy  
Amalfi yacht charter 

The Amalfi Coast is considered one of the most refined destinations in the Mediterranean and is popular with the world's richest, VIPs, and celebrities. The Amalfi coastline is famed for its striking scenery, with towering cliffs that plunge into azure blue waters and idyllic pastel-hued villages.
Cruise or sail along the coastline during a private boat rental and drop anchor at popular superyacht ports of call, including Amalfi, Capri, Positano, Ischia, and Naples. Explore pretty cobble-stoned streets with elegant local boutiques and gourmet restaurants. Beyond the coastline, explore vineyards, Medieval hilltop villages, and fascinating sites and attractions.
Drop-anchor in Sicily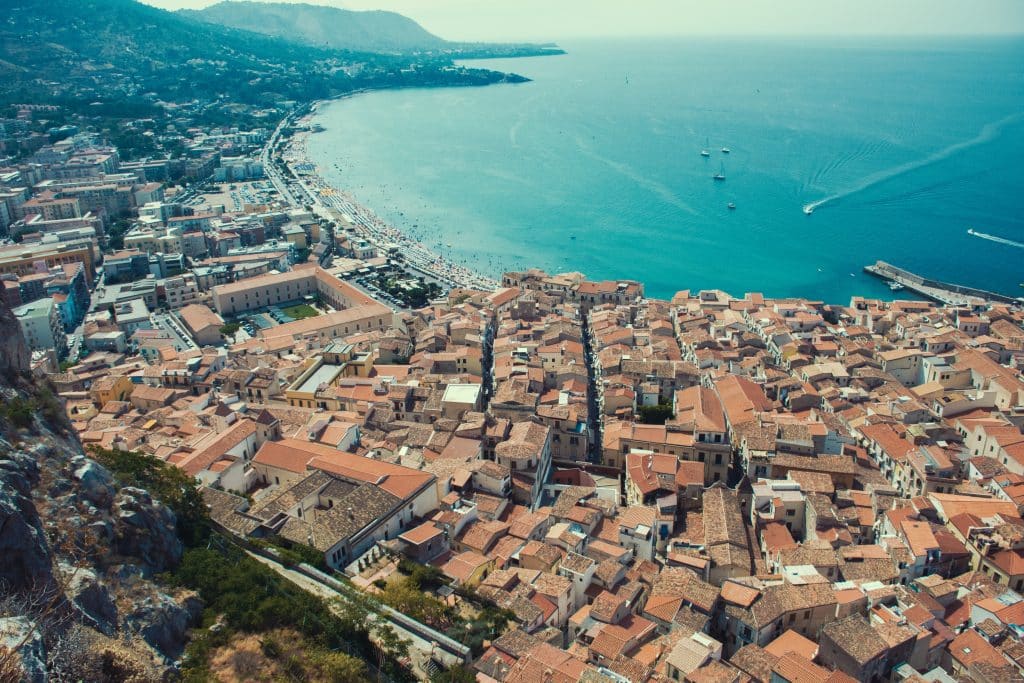 Enjoy Sicily's sun-kissed charm and unspoilt hidden treasures during a luxury yacht rental in Italy. 
Sicily is the largest island in the Mediterranean, positioned at the toe of Italy's 'boot'. The island is best known for its stunning beaches and crystal-clear water making it an ideal destination for paradise seekers. 
The island of Sicily is dotted with Greek ruins, including the famed Valley of the Temples, more than 2,500 years old, while below the waves, there is plenty of marine life to see, as well as several fascinating wrecks. 
Make sure you leave time to explore Mount Etna, the tallest active volcano in Europe. Ski down its peaks during the winter months and enjoy the many hiking trails in summer. There's also a cable car that takes visitors 2,500 metres above sea level for stunning panoramic views.  
Sardinia; Porto Cervo yacht charter 
This island's rugged, cactus-spiked landscape, romantic towns and cities, and pristine beaches offer something for everyone, from adventure seekers to ocean dreamers. 
Head to Porto Cervo, an elegant seaside resort boasting a world-class marina, fine-dining restaurants, and flawless beaches. 
Other highlights of Sardinia include the stunning Cala Sisine beach, accessible only by boat, and the beautiful city of Alghero with its Medieval old town filled with boutique shops and gelaterias. 
For foodies, don't leave this stunning destination without trying the local pecorino cheese during your superyacht charter. Sardinia is known for its dairy products, with pecorino cheese amongst the star ingredients. Produced from the milk of the island's more than 4 million sheep, this hard cheese is ideal for grating and cooking.
If you're interested in an Italian yacht charter, then our team of luxury yacht brokers are here to help. We offer a selection of some of the finest Mediterranean yachts for charter, boasting superb onboard amenities and exceptional service levels. Our charter managers will work to tailor an incredible charter vacation that precisely meets your needs. Contact us today.