Six yacht watersports activities to try on your luxury charter
While luxury yacht charters are often synonymous with total relaxation, renting a yacht gives you the most desirable cruising grounds as your very own playground. At Silver Star Yachting, our charter fleet is brimming with the latest yacht watersports equipment, meaning that whether you want to balance, float or feel high speeds, there are endless adventures to enjoy on the water.
Discover Silver Star Yachting's top six yacht watersport activities to be enjoyed during your charter. Ideal for those seeking fun and adventure.
Stand-up-paddle boarding
Stand-up paddle boarding is arguably the most popular yacht activity to try on a luxury yacht charter. A fun and not too demanding activity, paddle boarding is a superb way to explore exquisite shorelines, island coves and inlets, as well as reach the mainland as an alternative to the tender. Better yet, morning yoga on your stand-up paddle board on the calm waters of the Mediterranean or afternoons gliding alongside mesmerising marine life are moments you will not forget. Perfect for early sunrise sessions or experiencing those vibrant sunsets, stand-up paddle boarding is a must-try yacht watersport on your next yachting adventure.
Kayaking or canoeing
As an alternative to stand-up paddle boarding, kayaking allows yacht charter guests to get up close to the open waters and lap up nature's finest sights at serene anchorages around the world. With both single and double kayaks available on our fleets, kayaking or canoeing can be a fantastic way to combine a yachting activity with luxury adventure. Get up close and explore the sublime bays and islets, or perhaps go on a fishing expedition to catch a delicious seafood lunch. Alternatively, some kayaks are built with a completely see-through bottom for unparalleled views of the native marine life.
Jet skiing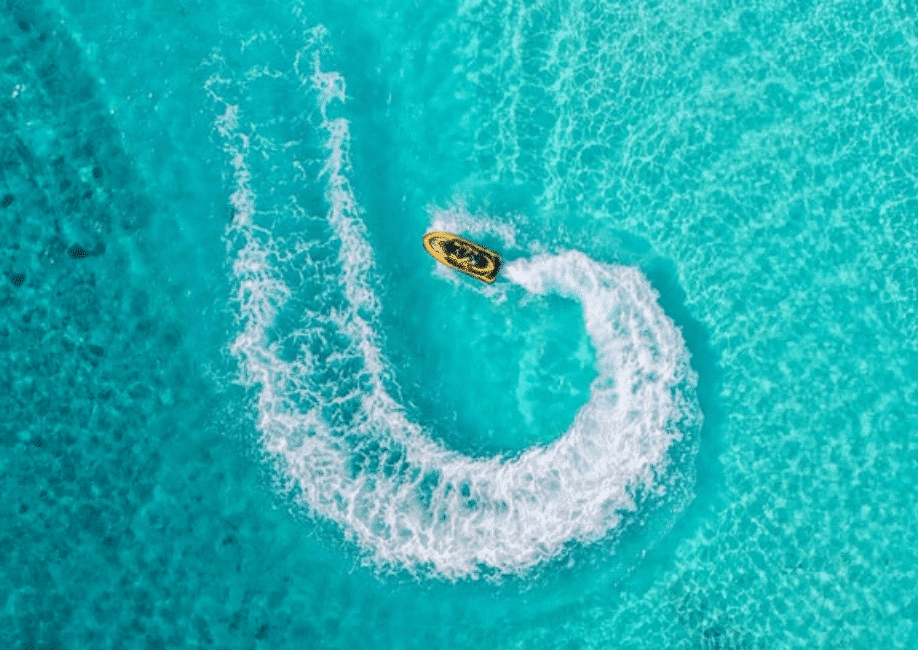 There is nothing more thrilling than feeling the salty breeze through your hair as you race around the coastlines on a high-powered jet ski. Those who want to experience the thrill of high speeds and feel the freedom of the open water must try these superb toys. Explore beautiful secluded beaches and picturesque coastlines, or head out with family and friends to enjoy a good-natured race across the waves. Jet skis on a yacht charter are great for adults and older children, where after quick instruction from the crew, you are free to explore the world's most desirable cruising grounds.
Flyboarding
If the usual yacht activities are no longer exciting to you, your next experience could be flying over the most sublime anchorages. Flyboarding is an extreme water sport growing in popularity amongst luxury travellers. A unique and exhilarating experience, this cutting-edge hydroflighting device will take you up to an impressive 22 meters above the surface of the water using underfoot propulsion and hand stabilisation systems. Not a sport for the faint-hearted, the flyboard is reserved for the most daring yacht charter guests, who are seeking an adrenaline rush like no other. As it was only recently invented, be the first to try it out and have a unique experience on your next luxury adventure.
Wakeboarding and waterskiing
Feel the surge of the salty sea beneath your feet and experience the pleasure of wakeboarding or waterskiing on your yacht charter. This is one of the only yacht watersport toys that suit the whole family, accommodating both children and adults for an afternoon of fun. When set against an idyllic background like the rainbow-hued houses of the Amalfi Coast or the dramatic landscape of the Aegean Sea, skimming across the surface of the water will leave you mesmerised. Usually, at least one of these watersport toys is found on our fleet of yacht charters with a high-speed tender.
Electric surfboards
Electric surfboards are a superb new addition to yacht watersports, allowing you to practice a thrilling sport without the need for waves or optimum wind conditions. Used for gliding over the water while reaching unimaginable speeds, this device is powered by a battery, activating the jet when pressing on the 'trigger' switch. With top speeds of 37mph and 28mph, these electric surfboards are the ideal choice for thrill-seekers who demand the most exhilarating experience on their luxury yacht charter. Expertly engineered for maximum stability, even new riders can enjoy this unique toy.
From tearing up the coastline on jet skis to relaxing rides on a kayak, a yacht charter can introduce you to endless fun on the water. If you are interested in a luxury yacht charter, complete with superb yacht watersport equipment, contact our team at Silver Star Yachting.