Sailing to the Balearics on a charter
Why choose a sailing yacht for your holiday in the Balearic Islands?
The hull ploughing through the waves, the wind caressing the sails, the smell of the sea: sailing yachts are a symbol of sportsmanship and experiences that put you in touch with the beauty of the sea. The ideal choice for a holiday in the Balearic Islands on a yacht charter, a journey made memorable because it will be spent on one of Silver Star Yachting's boats.
Our recommended tour will lead you to unspoiled retreats where the silence is broken only by the song of the sea, with time for a touch of glam on your cruise of the Balearic Islands, a hotspot of trendy nightlife.
Balearics on a sailing yacht: Minorca's most beautiful coves
One of the advantages of the sailing yacht is mooring at roadstead: discover a lovely little bay off the beaten path, surrounded by the vegetation and enjoy moments of absolute relaxation. Minorca boasts so many fantastic coves that you'll just have to pick one, but we recommend to plan a stop at Cavalleria: a 450 meter long beach of virgin red sand enclosed by rocks caressed by jade-green waters.
Cala Turqueta is another must-visit getaway if you're looking for peace and quiet: this tiny beach of 110 meters is surrounded by maritime pines and fragrant Mediterranean vegetation with turquoise waters that make the site look like exotic and (more faraway) paradises.
Fans of snorkelling should head for Cala Morell, where a small beach leads to waters dotted with underwater caves that can be explored on a dive or by simply swimming along the coastline with a mask and flippers.
Read our post on Minorca's most beautiful bays to choose your favorite ones.
Balearics on a sailing yacht: Mallorca's caves
Mallorca's unspoiled nature, large strips of white sand, enchanting hidden bays, small fishermen villages and caves will win your heart. And that's just where our tour of the Balearics on a sailing yacht will lead you: sites suspended halfway between fantasy and reality, where limestone formations of stalactites and stalagmites create an almost surreal atmosphere.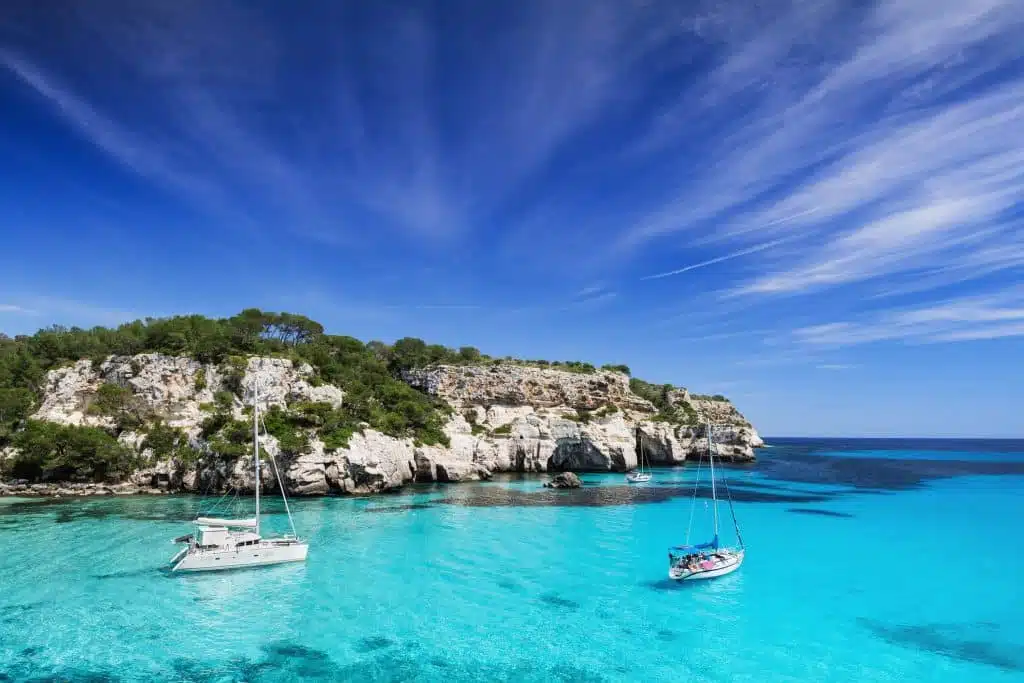 The most famous caves are:
Cuevas del Drach (Dragon Caves), an excellent venue for concerts with a subterranean lake
Hams Caves, made incredibly poetic by artificial lightning
Cuevas de Artà featuring spectacular stalactite formations
Coves de Campanet featuring several rooms and a garden that opens onto a charming view of the surroundings
And if you wish to spend more time on this charming island after dining at one of Mallorca's starred restaurants, read our ten tips for an ideal itinerary:
Balearics on a sailing yacht: Ibiza and the sunset at Dragon Islands
It is time to dive into the coolest nightlife at one of Ibiza's most exclusive clubs. Like Mykonos, this party island is packed with clubs that stay busy until the wee hours of the morning with a crowd that enjoys the music as much as excesses. But before leaving we recommend experiencing an absolutely unique spectacle: sail to Cala Hort, a tiny beach of 200 meter, and enjoy the charming view of the three "Dragon islands" of  Es Vedrà, Es Vedranell e Es (Sa) Galera. If you are a fan of twilight atmospheres you will love this picturesque and mysterious location that, facing Ibiza's western side, takes on a magical light at sunset
Baleari in yacht a vela: Formentera e la Salina ad Espalmador
Nel nostro articolo dedicato a Formentera troverai tanti consigli per costruire il tuo itinerario ideale in questa isola incontaminata che ospita meravigliose spiagge in cui fare bagni di sole lasciandosi cullare dalle onde. Oggi ti proponiamo una tappa alla Salina di Espalmador, per una rigenerante passeggiata sulla spiaggia fine e bianca di Platja de S'Alga, dove per più di un attimo avrai la sensazione di trovarti ai Caraibi, cui questo luogo poco ha da invidiare.
Se stai pensando di lasciarti tentare dai ritmi unici di una vacanza in yacht a vela a noleggio, contatta il nostro staff, che saprà consigliarti il modello più adatto al tuo prossimo viaggio.