Mrs Marietta Cube's Chef Talks Family Cooking, Traditional Sardinian Food Vs Other Italian Styles & More
An exclusive interview with Nello Rivieccio, yacht chef on Mrs Marietta Cube
Food is such an important part of a yacht charter, a way of experiencing your chosen region without even needing to step off the boat. The guest's preferences are always the priority, and the yacht chef will use those preferences to whip up a frenzy of exciting meals. Yacht rental – Mediterranean style – promises so many culinary delights, from traditional Sardinian food that feeds your soul and stomach to perfectly-executed French haute-cuisine.
But who are the people behind the onboard gastronomy, and what inspires them in their cooking? To learn more we spoke to Nello Rivieccio, chef onboard Mrs Marietta Cube, to find out how he combines ingredients from the yacht's charter regions (mainly Italy and the French Riviera) with a family style of cooking to create mouthwatering menus every time.
Nello Rivieccio explores regional cuisines on board, including Neapolitan and traditional Sardinian food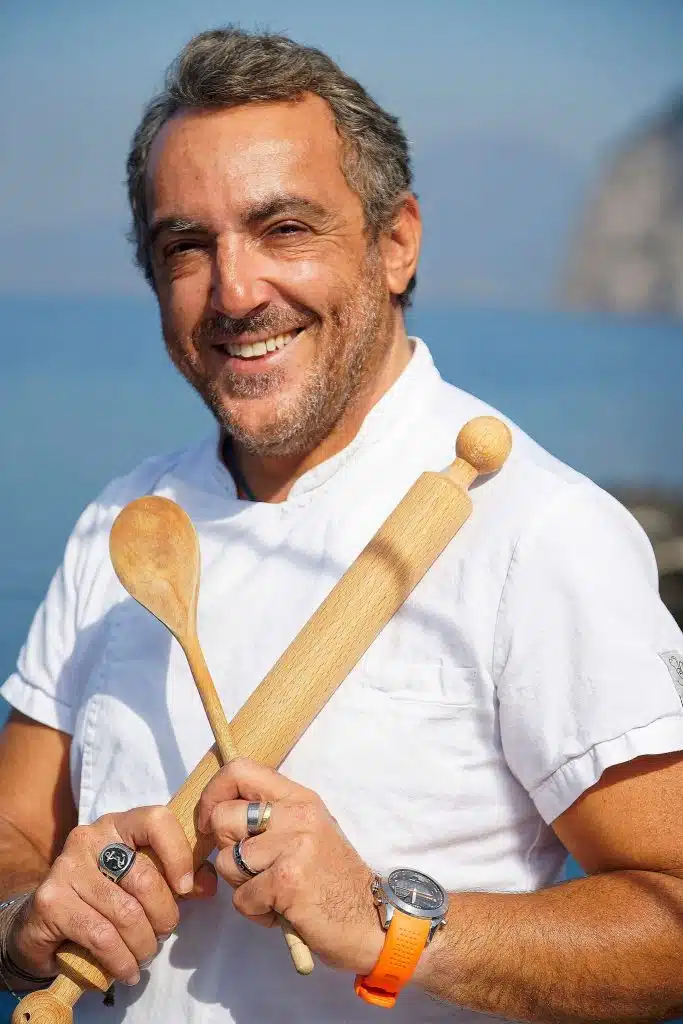 How did you become a yacht chef?

It's a combination of several factors. First of all, I have always felt connected to the sea. I was born in Torre del Greco, just in the middle of the Gulf of Naples, so I grew up with a passion for fishing. Probably my love for cooking came from my love for fishing, because ever since I was a young kid I was always going with my friends and my relatives. Once we got back home, I always tried to cook whatever we caught from the sea that day.

Then, I started to work on small boats as a skipper, where part of my role was to cook for the guests. Everybody said: "But you are better as a cook than as a skipper." Step by step, I developed more and more interest in cooking.
My master was my mum, because even now, my style is a family style of cooking. You have to prove yourself by showing you can cook varied, international cuisines, but in the end my recipes come down to my roots. The tradition and the love for food that we have within our family, that's the main drive behind my skills as a chef so far. Whenever I'm cooking, I'm cooking with love.


What's your favourite thing about working on this yacht?

The people I work with. The atmosphere on a boat is very important; I need to know I have the respect of the owners and guests, and I have this on Mrs Marietta Cube. I also like to enjoy myself onboard, and so it is important to get along with all the crew. Luckily in this case, I already knew the captain as a friend before I took the job.
The great relationships that I have with the owner, their family and the crew – the whole working environment – that's what makes me love it. And the cooking, of course!


What kind of preparation do you do before each charter?

A charter is always a bit of a roulette. You receive a preference list from the charter guests before meeting them, but this list just gives you a idea of their likes and dislikes. For yacht charters hosting parties, often the preference list is made by just one person, which isn't that useful. However, the list is helpful for finding out whether guests have allergies or intolerances.

I develop food menus for a week or more based on what they say on the preference list. But the first thing I do when the guests come on board is a small briefing to check what they really want. Because there's always time to correct, and first impressions of the preferences can be incorrect.

For example, saying "I like fish" means everything and nothing to me, because you can have a fish prepared in so many ways. It's the same with meat. So, you have to talk to your guests. You have to find out the styles of food that they like and work with that.
I am Neapolitan, so I try to give the guests some traditional Neapolitan food, but if they prefer an international cuisine I can of course cater to that too. Basically, I try my hardest to please everyone who steps foot on board and adapt to preferences once I know them.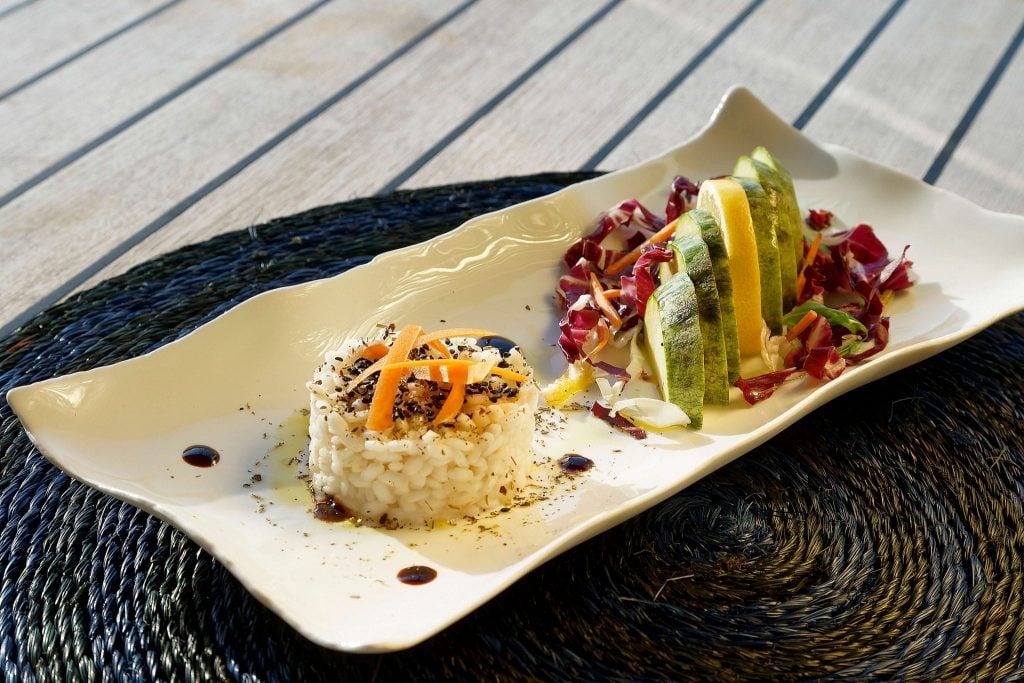 How do you buy produce in each area?

I always do a big shop at the start of a charter, but there is also day-by-day shopping for fresh fish, vegetables and fruit. I don't like to leave fruit or vegetables sitting in the fridge for more than two days, so I do very frequent shops.
I'm an old school guy, so I tend to go shopping myself rather than sending any of the crew out. Doing it this way tends to make the on board menu a bit more exciting, as it leaves room for surprises. There will always be a plan in the morning of what the guests are being served for lunch and dinner, but sometimes it's nice to surprise them with local produce.
For example, if I go to a fishmonger looking for something specific and I see something really fresh, or very unusual or very hard to buy, I tend to buy it and adapt the menu plan to suit. Our guests are usually very happy to try something different, but you have to use your judgement to make sure you don't buy something that they won't like.
I remember maybe two or three times that I have used a supplier for provisioning; if I have the chance, I go by myself. Alongside the surprise aspect, I like to see what kind of vegetables they have, what kind of fish they have, what kind of meat cuts they have, because when I go there and I see this piece of meat or fish or whatever, I see the menu and the way I can cook it to perfection. I like to work like this
Do you ever have to source exotic ingredients for your guests?

I have a good story about this! I was on the southside of Corsica and I had a very nice family on board who requested lobster linguini and lobster salad. So, I took the dinghy and went ashore. There was a very local fresh fish market, but I had a problem; there was no lobster and we were going to leave the next day, so there was no way to pick any more up. I called the captain to tell him the bad news and he said: "Listen, I spoke with them. They said, try to do everything you can, even if you have to rent a car to go and get lobster from another town."

Then I walked past a restaurant with lobsters in their window. I went in and spoke with the manager and told him about my problem. He said that he could sell it to me, but that the price would be much higher than then normal market rate. So I called the captain who in turn spoke with the charterers, and they said: "No problem. Go get it. We want the lobster."

I always try to please my guests, and when possible I'll give them a substitution option – for example, I have so many great recipes using jumbo shrimps. But if you want lobster, I will move the world to get lobster.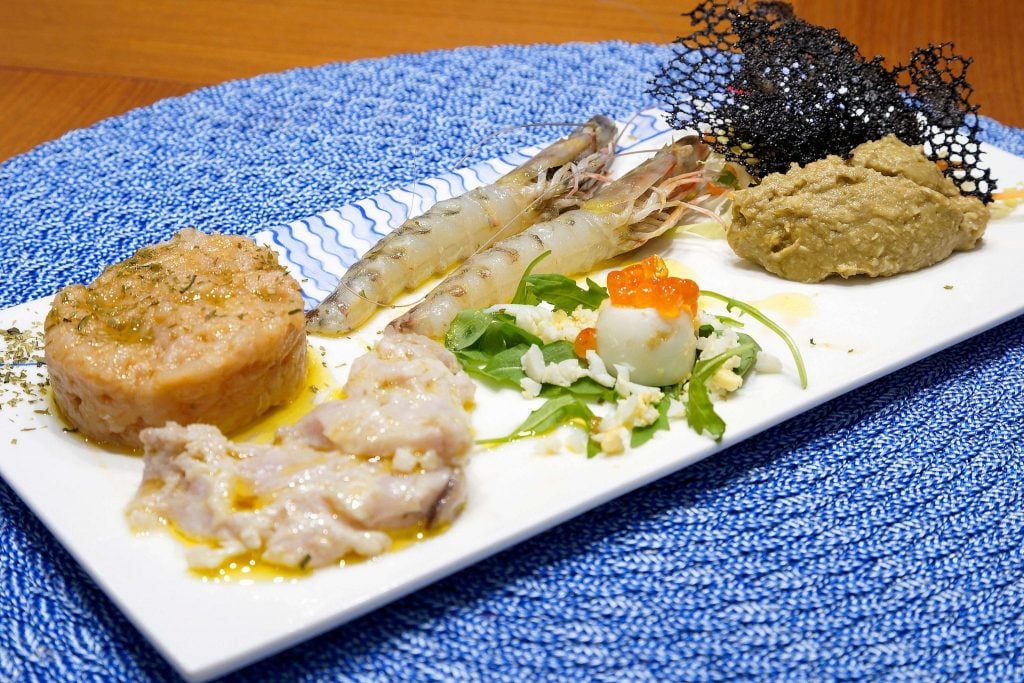 You mentioned that you cook in a family style. What are some of your typical dishes?

There are so many traditional dishes in Naples that it's impossible to make a list. I think the core of the Neapolitan cuisine is about fish, Naples having such a strong fishing history, and I cook plenty of seafood. I also do a great Neapolitan style pizza – I haven't found anyone that doesn't like the pizza so far.

A special pasta that I make is spaghetti vongole, which is another dish from Naples. But it's very, very hard to pick out just a few typical plates. Normally in a two week charter, unless the guests ask for it, they'll never have the same menu twice. I always try to offer a variety of choices, so that they leave the boat with a good food experience. This is my main goal.


What are some of your favorite things to cook?

For me, every time I make something new is when I really enjoy cooking. There is an old Italian chef that used to say that you have to make a dish three times to really master it. So, you do it the first time and it's okay. Second time, it's good. Third time, it's delicious. Doing this, you expose yourself to new challenges. I think this is the excitement of cooking, to see if you can create something new.
Sardinia is one of the places that Mrs Marietta Cube charters around. Is
traditional Sardinian food
different to cuisines offered in other parts of Italy?

In Italy, if you move 200 kilometers north or south, you have a completely different way to cooking. Even if you say, "I'm Italian and I cook Italian," there's a huge difference depending on where you come from. In every place the yacht cruises to, there is a huge difference in local dishes and available produce. This is what gives me the opportunity to give guests a variety of different tastes and flavours.

If I go to Sardinia, I like to give them the fresh cheeses that are produced there – traditional Sardinian food. If I go to the South of France, the first thing I buy is the scallops because I know that they are amazing. If I go to Naples this is my home and so there are so many things that I know to get, like fresh mozzarella or tomatoes from Sorrento, which you can't get anywhere else.

This is all learnt from experience, because I have been all over the Mediterranean and know the best locally-sourced ingredients from every region.


Have you seen an increase in guests with dietary requirements in recent years?

There is a very high request for two things: vegetarian/vegan food and gluten-free. A few years back, you had maybe one gluten-free person in the entire season. Now, in many parties, there is a gluten-free person. Gluten is seen as a kind of evil by some people nowadays, so I have adapted many of my dishes to make sure they can be just as delicious gluten-free. But this is not a problem, it just requires a bit more planning. For traditional Sardinian food and other Italian dishes, there is a heavy focus on pasta and bread, however this is easily worked around using gluten-free substitutes, which are widely available.
I had one celiac woman this year, a very nice lady from USA. I always cooked everything for her in the same way I was doing for the other ones, and she told me at the end that she was so glad her meals were not pushed to the side. I tried with all my power to give her the same thing that I was doing for the other people. I even did my pizza with gluten-free flour, which was not exactly the same as the other people had, but she was so happy to be able to enjoy the same flavours as the rest of the party.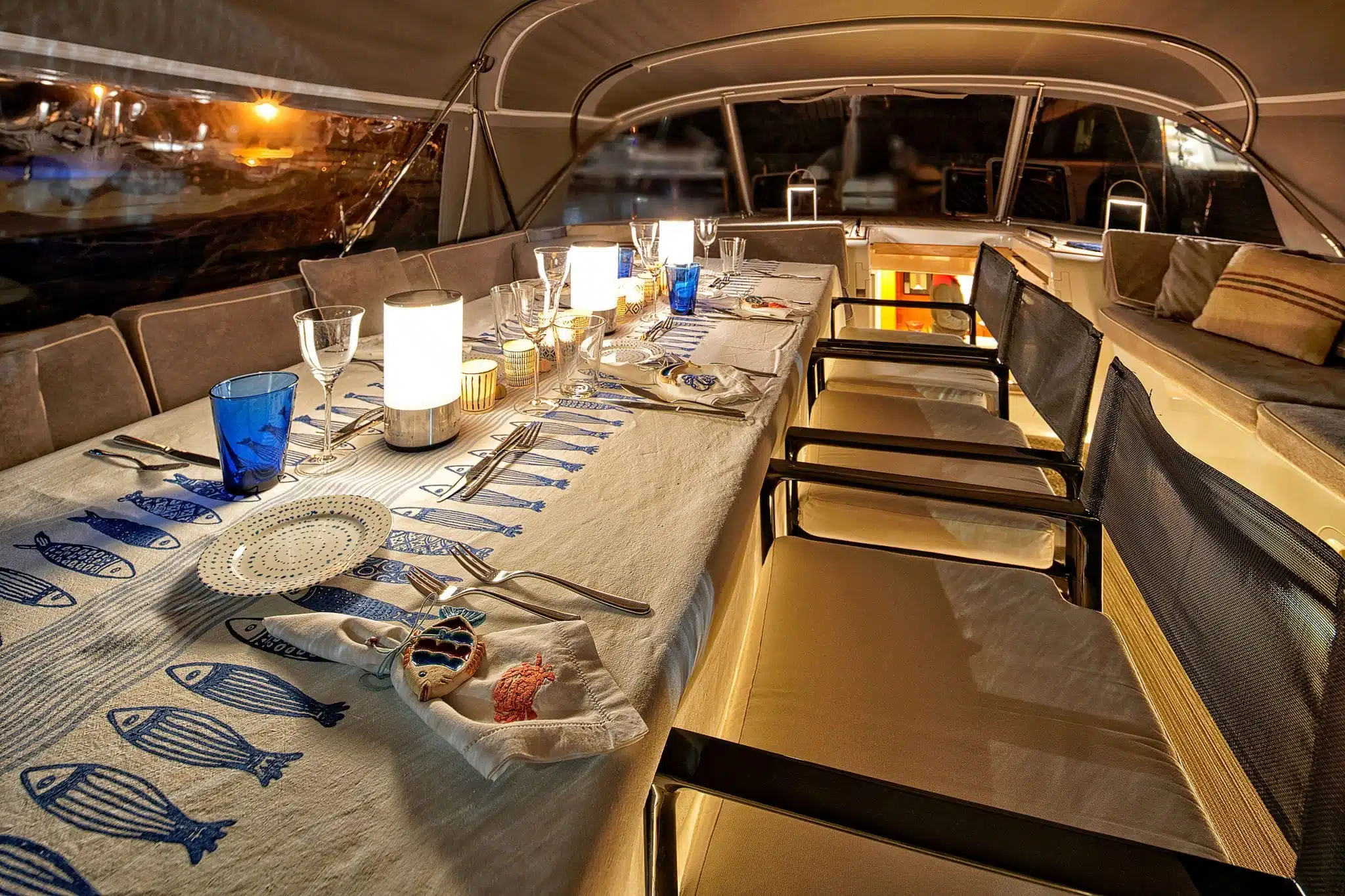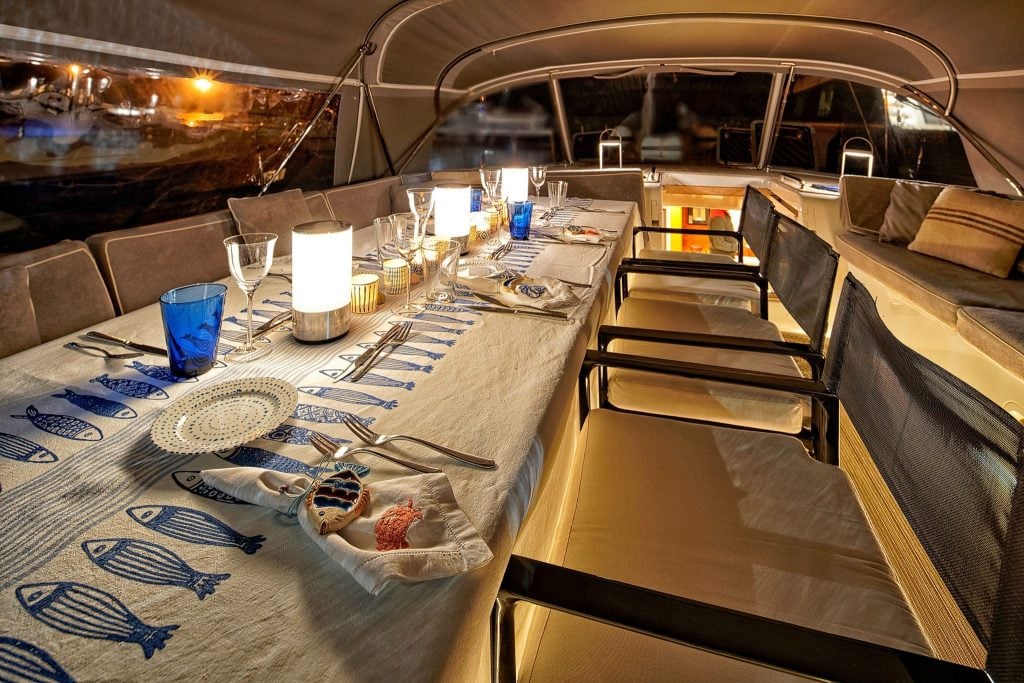 Also, menu requests have changed. People now want to try the more exotic dishes that they see on television. They ask for things that they are not typical international cuisine or even typical fusion, mixing dishes that you would never normally put together. Under the word of fusion, you can include all the bad and good things that cooking can give. But it does offer more opportunity to play about with flavours.

What's the craziest food request that you've had from a charter client?
I see a lot of crazy things. One woman requested that everything I made for her have curry powder in it. When I say everything, I mean everything. Pasta … Can you add some curry powder? French cuisine, can you add some curry powder? Meat, can you add some curry powder? Curry is a very strong flavour, so it will overpower anything you cook . But she wanted it on everything, and the charter guest is always right!

I also remember a man that liked to eat all his courses buffet-style off of one plate. One night at dinner, the guest took a plate of pasta with seafood, then put, on top of the pasta, two slices of the pork, then took the gravy for the pork and poured it on top of everything. But as long as he was enjoying the food, that's all that matters.
Thank you, Nello! We look forward to seeing you next charter season on Mrs Marietta Cube.