Ponza e Palmarola
The largest of the Pontine islands, Ponza, is full of breathtaking scenery and unmissable views. Its coasts, alternating jagged beaches and small coves to be conquered only by boat, are a paradise for those who arrive in this island aboard a luxury charter. A real gem for lovers of snorkeling and scuba diving: there are numerous underwater caves and small cliffs.
After docking at sea or near the coastline, guests can enjoy a sun bath at the beach of Chiaia di Luna, overlooking the sea, and at the lesser known but equally spectacular Scogliera and Faraglioni di Rosa Lucia, named after the young girl who jumped into the sea, killing herself for love. We recommend a trip to the Pilato Caves or the San Francesco's ones.
Characterized by the Mediterranean, Ponza is rich in agaves and brooms that bloom in the summer, when the island's natural beauty and the exclusive seaside resorts attract lovers of luxury and good life. The island is full of restaurants and nightclubs that animate the warm summer evenings.
Ponza is fun, sea, sun and relax: in the evening, we recommend a tour through the narrow streets of the picturesque village just to soak up the atmosphere of the island. A dip in the cool bars, frequented by the international jet set, is a must for those who love the nightlife. You are spoiled for choice. If you love this kind of entertainment, you should also spend an evening with a cocktail and diving into the night with the natural setting of the Frontone beach.
Smaller sister of Ponza, but no less renowned for its beautiful landscapes and natural postcards that you can see at every corner, the island of Palmarola is very close. Very few nautical miles separate, in fact, these two islands. Palmarola is totally immersed in the lush Mediterranean vegetation, typical of the islands of the Pontine, and is rich in natural beauty like few other places in the world.
Arriving aboard a private boat, you can already enjoy the view of the Faraglione di Mezzogiorno and Punta Vardella that warn travelers of the immense beauty that stretches from there to the last point of the island. The places to visit on the island are numerous: from Grotta del Gatto (accessible only by a small boat), to the geological layers of Varco della Forcina, the shell of Punta Tramontana and the Galere rocks, unique in the Mediterranean for the particular lava glass mottling of these rocks.
We also highly recommend the boat ride (but not for small boats) that includes the dubbing of the Punta Breches to admire, at Cala Tramontana, the Cathedral (named for the resemblance to a Gothic cathedral). To spend a relaxing evenin, the best is the landing place of Cala del Porto, the only safe point of the island, where, besides the beautiful beach, there are several restaurants where you can dine.
RELATED FROM THE BLOG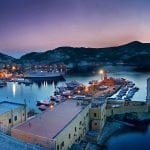 Yacht Itineraries
From Ischia to Ponza via Ventotene