Napoli
Light and darkness, good and evil are mixed among the thousands of souls of the former capital of the Bourbon Kingdom. Naples fascinates and frightens, it makes you dream and intimidates the tourists, but the motto "see Naples and die" has its reasons, in this charming city in Southern Italy.
After landing at the large commercial and tourist port, usually the Beverello accommodates the cruise passengers. You can Immediately understand the atmosphere in the city of the sun: a veritable open-air theater.
Of things to do and see you are spoiled for choice: you can start with a pleasant walk in Via Caracciolo and Mergellina with a stop for a coffee at one of the chalets in the area. Next, a short distance, you can see the real heart of Naples: Spaccanapoli, a road that cuts the city in two. This characteristic street hides numerous churches, archaeological pearls and mysteries, shops and unique Neapolitan. Starting with the fascinating underground Naples, a series of mazes, tunnels and caves that are lost in the mists of time of the founding of Palepoli and which protected the people of Naples during the bombings of World War II, to the San Severo Chapel and the Veiled Christ up to the Cathedral of Naples with the rumored Treasure of San Gennaro. You can't absolutely miss also the beautiful Santa Chiara Church, the church of Gesu Nuovo and San Lorenzo Church.
Going down along one of the main shopping streets of Naples, Via Roma, the look opens over the Royal Palace. One side of it overlooks the sea, and in that direction there's also the Maschio Angioino. The other side is surrounded by the magnificent Piazza Plebiscito, the San Carlo theatre, the Galleria Umberto I and the Church of San Francesco di Paola. You should stop here for a warm sfogliatella, to enjoy an excellent coffee sitting between the unique gazebos of Gambrinus in Piazza Trieste e Trento and to taste Sorbillo's fried pizza, cooked and eaten hot at the time.
Talking about places to visit, definitely a mention goes to Capodimonte's Museum and Park, the green lung of Naples, to the National Archaeological Museum and to the unmissable panorama from the most beautiful terrace of Vomero's hill, San Martino, where you can also visit the Certosa with its museum and gardens.
For those who love shopping, Via dei Mille, Via Calabritto and Chiaia will satisfy any desire: all major fashion houses and boutiques of the world have a home here. If you love an affordable shopping, Naples it is full of markets impossible to resist to!
Besides pizza and a night out among the many local restaurants and nightclubs in the city, Naples truly offers a million things to do and to see: you just need to decide where to start from.
RELATED FROM THE BLOG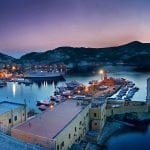 Yacht Itineraries
From Ischia to Ponza via Ventotene