Trapani to Marsala, yachting in the Aegadian Islands
What to see in western Sicily on a yacht: Aegadian Islands, Trapani and Marsala
The Aegadian archipelago is composed of the three main islands of Favignana, Marettimo, and Levanzo, and seven minor ones including Formica, Maraone, Stagnone, and Galeotta. This is a Protected Marine Reserve boasting turquoise waters against a lovely background. Our yacht itinerary of Western Sicily sails off from Trapani with a stop in Marsala and stops in the Aegadian Islands: the perfect site for a relaxing cruise, cradled by the slow rhythms and enjoying the comforts of an exclusive luxury charter
Trapani
Trapani's historical center is dotted with baroque buildings and imposing churches. The must-visit spot in town for any sweet tooth is Colicchia, one of the most famous pastry shops in Italy selling anise biscotti and handmade granitas. Visit the picturesque Museo del Sale (the Museum of Salt). In the afternoon the sunlight reflecting on the water of the Saline, the salt flats populated by elegant pink flamingos, makes a wonderful picture. Before going back to your luxury charter in Western Sicily we recommend eating at Serisso47, where Chef Gaetano Barisicò cooks exquisite reinvented dishes of the local tradition.
Yachting in the Aegadian Islands: Favignana
The Mediterranean vegetation grows luxuriantly in Favignana, the biggest of the Aegadian Islands. Reach this dreamy place where the white color of the houses shines against the blue of the casings on your yacht tour of the best tourist destinations in Western Sicily. Cala Rossa is one of the island's most famous strips of sand, located inside tuff caves. In 2015 Cala Rossa came first on SkyScanner's top ten list of Sicily's most charming beaches. The crystal-clear waters and pink hues of the seabed of Cala Azzurra are just charming. Fans of snorkeling love the islet of Galeotta, one of the best spots to explore the underwater landscape and cross schools of octopuses and morays, and Cala Ronda, lying inside a cave.
Yachting in the Aegadian Islands: Levanzo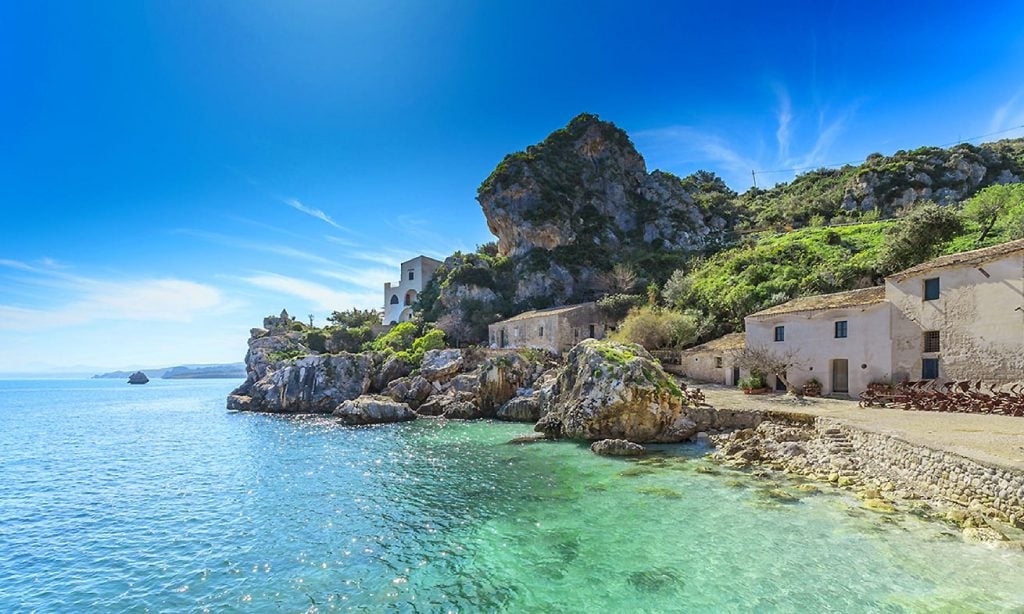 Like the Aeolian archipelago the Aegadian Islands also have unique and distinctive features. Levanzo is the smallest island. It is known for its caves that include Grotta del Genovese, boasting etchings and cave art. Fans of snorkeling will love the interesting underwater archeological path extending from Cala Minnola to Punta Altarella, unfolding among a Roman relic, fifty urns, and fragments of ancient vases dating to the I century b.C.
Yachting in the Aegadian Islands: Marettimo
Marettino is the wildest and most untouched island of the Aegadian archipelago. Sail to it during your charter holiday to discover its charming landscapes. Once a fisherman's shelter, it has become a preferred destination for visitors interested in trekking and sustainable tourism. Visit the extraordinary caves that nature has shaped through time, such as Grotta del Tuono and Grotta del Presepe, known for its stalactites and stalagmites. One of Marettimo's loveliest beaches is the pebble cove at the foot of the promotory of Punta Toia.
Marsala
Our itinerary of Western Sicily ends with a brief stop in Marsala. Head to one of the historical wine bars to enjoy a glass of the fine wine named after this town.
A yacht holiday to the Aegadian Islands means enjoying a relaxing holiday in the nature, dotted by two town stops in the nearby Trapani and Marsala. What to see if you're visiting Sicily on a yacht? The island's tourist spots certainly do not end here. Your holiday can go on sailing in Sicily for 7 days.